Spectrum Needs Description
SpectrumNeeds® includes nutrients that:


Constitute an excellent broad basis of essential micro-nutrition.

Promote mitochondrial energy metabolism.

Generate essential cofactors, such as coenzyme A.

Provide strong antioxidant support for free radical removal.

Remove harmful metabolites, including certain organic acids.

Enhance methylation needs, and thereby assist in gene regulation.

Facilitate selected neurotransmission, including GABA receptors.

Protect the nervous system, including by reducing NMDA glutamate receptor activity.

Assist in the regulation of insulin control.

Improve small vessel circulation in the brain.
SpectrumNeeds® contains 33 all-natural active ingredients, including 20 different mitochondrial-targeted nutrients ("mito-cocktail") plus additional nutrients aimed to promote methylation, neurotransmission, and neuro-protective functions. In addition, SpectrumNeeds® is an excellent multi-vitamin and mineral source. SpectrumNeeds® is designed to be safe and effective in all individuals regardless of age, gender, presence or type of neurodevelopmental conditions, common comorbidities, severity of disease, DNA sequence information, medications, or other supplements taken. The formulation is in particular tailored to the dietary needs of children and adults with autism and related neurodevelopmental disorders. In particular, SpectrumNeeds® includes many essential nutrients that are often deficient in individuals with autism. However, SpectrumNeeds® can be taken by all individuals who desire a basis of excellent nutritional and dietary interventions to promote improved energy metabolism, methylation, and neurotransmission.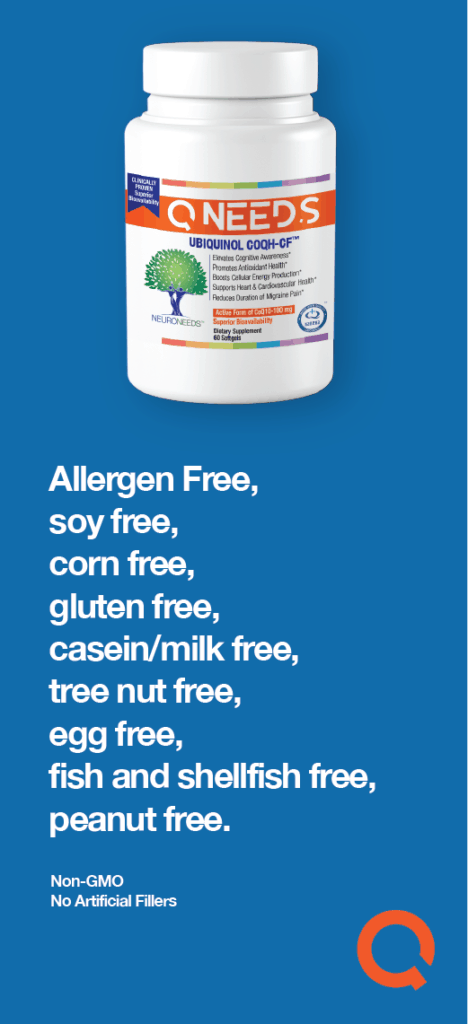 Coenzyme Q10 (CoQ10), a mainstay of the "mito-cocktail", is a natural nutrient that plays a critical role in the production of energy by the mitochondria within cells. CoQ10 serves as an essential electron carrier in the respiratory chain, whereas almost all of the energy for the body is produced. It also functions as an antioxidant, which protects the body from damage caused by harmful molecules. There is a substantial amount of CoQ10 in SpectrumNeeds®, all in the ubiquinone form for stability purposes. However, research along with patient blood monitoring suggests that ubiquinol (in the liquid form) offers superior bioavailability, resulting in better absorption of the nutrient from the gut into the blood. QNeeds® is a patent-pending 100-mg ubiquinol small-sized softgel sourced from Kaneka®, that is offered in a completely soluble, liquid, crystal-free solution, clinically proven to provide superior bioavailability.
SpectrumNeeds® and QNeeds® are designed to be taken together, including in individuals that present with:
• Any neurodevelopmental disorder, including autism, autism-like conditions, ADHD, and intellectual disability.
• Any neuropsychiatric disorder, including anxiety, depression, bipolar, panic, OCD, and psychosis.
• Any functional disorder, including migraine, fibromyalgia, and other causes of chronic pain, cyclic vomiting, chronic fatigue, gastrointestinal dysmotility, and dysautonomia.
• Anyone with a mitochondrial disorder or mitochondrial dysfunction.